Basic information: The Baltimore Oriole is a beautiful tropical bird that breeds in much of eastern North America and winters in Central and northern South America.
Laura's Baltimore Oriole Photo Gallery
Video:
Learn more about Baltimore Orioles:
How you can help Baltimore Orioles:
Drink bird friendly coffee. This will help protect habitat on oriole wintering grounds.
Minimize use of lawn and garden pesticides. Even "safe" pesticides such as Bt destroy caterpillars, which are a critical food for baby orioles and an important food for adults.
If you live in a city, get involved in a lights out program to minimize birds crashing into highrise buildings.
Set out oranges, grape jelly, mealworms, and sugar water during spring migration and as long into the breeding season as adults remain during harsh conditions. But if orioles bring their babies to your feeder, set out mealworms and don't provide jelly --growing fledglings need protein, not high levels of sugar.
Offer natural fibers and natural string and yarn in dull natural colors, in 4-6 inch lengths, for oriole nesting.
Plant American elm trees for orioles to use for nesting in the future.
Eat low on the food chain. Eating beef, especially corn-fed beef, increases the amount of oriole habitat that is destroyed for your food production.
Slow down when driving through oriole habitat. Driving slow not only significantly reduces collisions with birds, it also saves natural resources. Oil extraction, refining, transport, and burning all impact birds, including Baltimore Orioles.
Orioles are often killed, sometimes in large numbers, at communications towers. Ask your area regulators to demand that all new communications towers adhere to US F&W guidelines.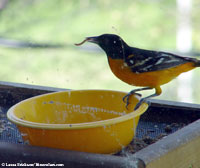 How you can see and attract Baltimore Orioles:
Orioles are usually best viewed using binoculars. In window feeders, you may prefer binocs with very close focusing.
Orioles prefer to nest near water. Although they were once a typical backyard bird, as their numbers fell the remaining birds selected the best habitat, and most backyards no longer have them except during spring migration. Elms seem to be their preferred nesting trees, but they do accept other tall shade trees. During migration, they seem to key in on the color orange. Providing oranges and grape jelly in orange bowls or the emptied half rinds of oranges often catches their eye as they pass overhead.